MULTI TRAP CONTROLLER (MODEL MTX-8)
Multi-Trap Controller (model MTX-8) is a wireless controller for up to 8 traps.
Though loaded with features, the MTX-8 is very simple to operate. Target selection is displayed on LCD display and the keypad is arranged for intuitive operation. The MTX-8 features manual mode or automatic sequencing with configurable menus for 5-Stand and Flurry. The MTX-8 can throw a "Rafael" (following pair from the same trap).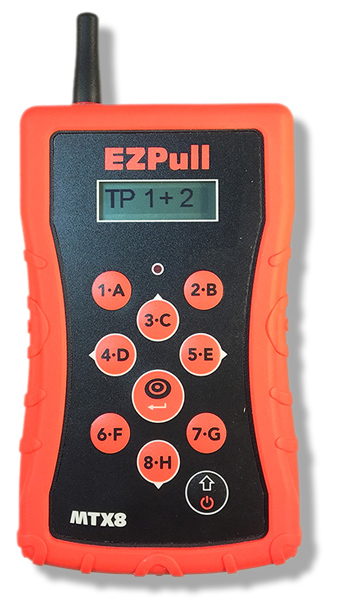 Voice Release Multi Trap Controller (model TX-8/VR)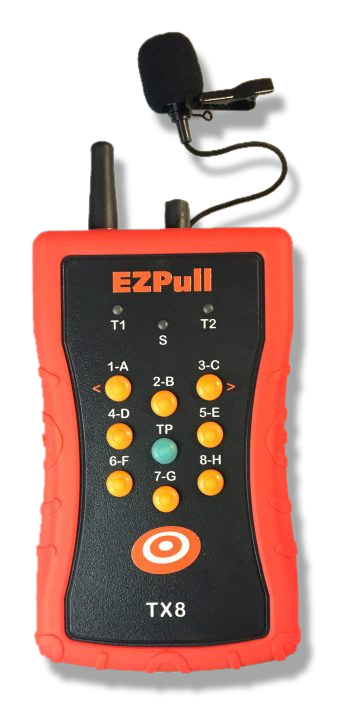 Voice Release Multi Trap Controller (model TX-8/VR) is a wireless voice release controller for up to 8 traps.
The TX-8/VR features EZPull's proprietary digital signal processing to detect voice and gunshots (report). The TX-8/VR comes standard with a lapel microphone. Plug-in directional or waterproof microphones are optional. The TX-8/VR is rugged and very simple to use. Innovative "raised" buttons are very reliable and a crisp "click" provides tactile feedback when pressed. The buttons are arranged for intuitive operation and are easy to use even with thick gloves. Target selection is indicated on three LED lights.
Designed as a Constructive Practice tool for competitive shooters, the TX-8/VR features Repeat Practice Target "locking" so target(s) are repeatedly released on each "pull" without pressing any buttons. When the microphone is removed, the unit operates in manual mode. The TX-8/VR can throw a "Rafael" (following pair from the same trap).
TRAP RECEIVER (MODEL RXP-02)
Model RXP-02 is a single trap, water-proof, wireless receiver/switch for 12VDC Sporting Clays trap machines.
Designed to withstand the elements, the RXP-02 is housed in a sealed tube to ensure water resistance and durability. The electronic board of the RXP-02 is suspended in the tube on silicone supports so any condensation in the waterproof enclosure will drip to the bottom of the tube without causing damage. The RXP-02 does not have an external antenna that can break and cause water leaks. There is no need to open the enclosure and set DIP switches for the address codes. Simply put the RXP-02 in pairing mode by placing a magnet next to the reed switch and press the required target key on the transmitter.  For precise control of a targets presentation, the RXP-02 can be programmed to delay a target by 1, 2 or 3 seconds, saving hundreds of dollars in external timers.
Receiver Hub (Model MRX-8)
Receiver Hub (Model MRX-8) is a Wireless multi-trap relay hub providing economic solution for wired 5-Stand installations.
There is no wire from the MRX-8 to the Transmitter. The MRX-8 controls up to 8 traps. It is possible to connect a few wired traps on the 5-Stand to the MRX-8 and have other traps controlled by wireless SRX01 receivers for mobility and quick layout changes. The MRX-8 can be powered from a wall transformer AC/DC.